Welcome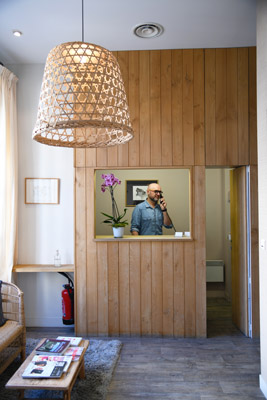 The Auberge de la Commanderie is ideally located in the heart of the medieval town with a panoramic view of Saint-Emilion's monuments and vineyards. It offers the peaceful charm of a family-run hotel.
Grégory welcomes you every day and is available throughout your stay.
Its warm, cosy atmosphere is filled with memories of travels: pilgrims on their long trek, colourful journeys to far-off lands and crazy adventures.
A particular decorative feature in the hotel is the combination of wood and rattan. This wicker furniture calls to mind a different hemisphere in shades of indigo blue. Its presence gives warmth to the bedrooms and lounges and an exotic elegance that makes your stay even more pleasant. Hotel with no disabled access.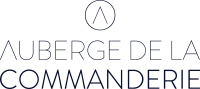 Saint-Emilion
The vineyards and the 8 villages that make up the Jurisdiction of Saint-Émilion are listed as a UNESCO World Heritage of Humanity Site under the category « Cultural Landscape ».
Not only does the jurisdiction contain outstanding natural heritage, there is also considerable historical and architectural heritage, such as in the medieval town of Saint-Émilion with its monolithic church, network of underground quarries, cobble-stone streets and numerous religious monuments.
The Jurisdiction of Saint-Émilion also includes a host of Romanesque churches, windmills and dovecotes, which add to the undeniable charm of this territory.
Discover our rooms
1 double bed + 3 single beds
1 double bed + 2 single beds